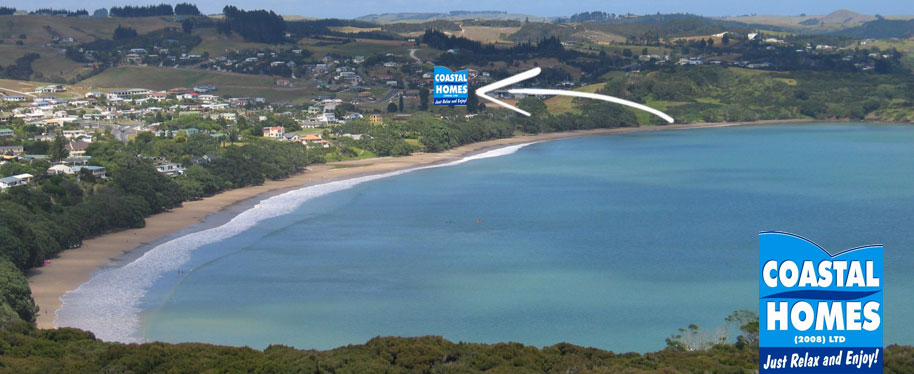 The Coastal Homes team are Master Builders based in picturesque Doubtless Bay in the far north of New Zealand
Doubtless Bay has its own locally-owned and operated expert construction company. The blue and white signs which are seen all over the area proudly display this most appropriate name for our beach-dominated area – Coastal Homes.
Glen Bradbury is the founder of Coastal Homes, having owned and operated his own construction business since 1999 – he and his team have built a numerous amount of homes throughout Doubtless Bay.
Glen is a practical builder who is interested in all aspects of the business, constantly expanding his range of work and now employs qualified carpenters, with apprentices on the team as well working towards the National Certificate in Carpentry, with other appropriate tradesmen are employed as necessary.
Coastal Homes has had two apprentices win the Northland Apprentice of the Year – with another in the running for 2014. We also have had five of our apprentices win the State Apprenticeship Scheme.
Coastal Homes takes on all types of building projects, including new residential and commercial builds, major renovations and remodelling, retaining walls, landscaping and decks. We also have expert site works available – including section development, earthworks, hole drilling, back hoeing, labour only, etc.

Renovations
Commercial builds & renovation
Earthworks & site excavation
Architectural builds
Baches & Sleep-outs
Design & build service
Additions
Plans & consents

Visit our showroom at 3 Walter Way, Coopers Beach to see just what we offer in our new homes – finishes, fixtures, bathroom and kitchen fittings, choice of roof colour, joinery, cladding, paint and floor coverings, etc. – all are on display to show exactly how your finished home will look.
---
About Doubtless Bay
Situated on the Pacific Ocean, Doubtless Bay has a warm sub-tropical climate, relatively low rainfall and over 70 kilometres of unspoiled coastline and an abundance of safe beaches. Centred on the township of Mangonui, it is a holiday paradise and a wonderful place to live and work.
There are daily flights (closest airports being Kaitaia and Kerikeri) and bus services from Auckland and travelling by car on State Highways 1 and 10, it is about four hours drive north from Auckland without stops – or a very scenic journey for those who enjoy taking their time.
For more information about the area please check Doubtless Bay's official website.
Glen Bradbury
Director / Master Builder
Glen was raised in Doubtless Bay. During his younger years he attended Taipa Area School. He took up a building apprenticeship with Northwood Design & Construction, this experience eventually lead him to create his own design and build service which is now based in purpose-built offices in Coopers Beach.
Glen, his wife and young family enjoy all the Far North has to offer – a relaxed lifestyle with a coastal outlook. Glen coaches the Under 6 soccer team and is very involved in community events and contributes greatly by way of sponsorship. See our In the Community page for details on how Glen and his team give back to the local community.
Neville Carter
Operations Director

Neville brings a diverse background in management and sales to Coastal Homes. He is  passionate, dedicated and a perfectionist with a wide skill set that he practices to the highest level!
Neville has spent the last 25 years of his career working in Rotorua and Matamata, where he has held active roles in the community – such as president of the Kiwianis Club of Rotorua and the Geyserland 4WD Club.
A dynamo not only on a bicycle, but also when it comes to DIY! Neville shares a love of outdoors with his school sweetheart Jo, whose family comes from Tauranga Bay Valley, together they are returning home to Northland.